What is The Way of the Luminous Heart?
I do not find the world of humans an easy place to be in a lot of the time. You know, coz of all the judgement and shaming and stuff. AND I don't believe it has to be this way. I can hold both of these truths simultaneously.
On my ongoing healing path, I needed guidance in how to thrive and grow and just be in a world that can be so judgemental, that uses shame as a corrective tactic, and that doesn't give people the support they need, when they need it. A world that so often doesn't want to see us as we truly are, in our wholeness, and our human messiness.*
I'll be forever thankful that the universe guided me towards Francesca Redden and her amazing body of work that would evolve to become The Way of the Luminous Heart (WOLH).
But what is WOLH? And how does it bring about the heart-opening magic that I, and many others, have experienced as we engage with this work?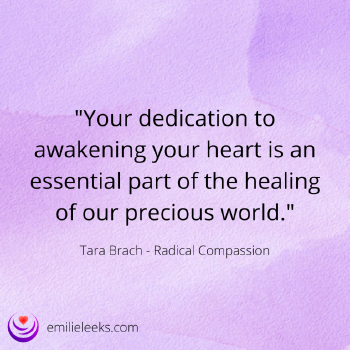 What is WOLH?
The Way of the Luminous Heart is a relational healing approach, that weaves earth, body, heart, energy and soul medicine practices to reconnect us to our inner wisdom and healing, and which bring us back to our authentic, beautiful selves. It understands that we each have the seed of healing inside of us - and that many of us will need guidance to rediscover and tend to this seed.
Through this work we can develop increased self-compassion, find sacred self-responsibility (knowing and owning what's ours - and what's not), reignite our own wisdom, passion and ability to heal… So many things. Through our relational connection as we do this work, we are supported to heal past hurts, lay new maps (patterning) of possibility into our soma (our living body as a whole, as we experience it from the inside), and bring in resources and practices to increase our capacity to handle the hard stuff that life throws at us.
We learn to connect with our hearts and bodies, to harmonise with the Earth, and to align and restore our energies. We are invited to engage with curiosity, to rest in the mystery, and to open our hearts and trust in where the work takes us. It's a truly awesome and fascinating journey!
The Way of the Luminous Heart is an embodied, trauma-informed approach. In our sessions, we explore intentions, engage with beautiful, gentle (yet powerful) practices, and take time for integration. We follow up with ideas of practices and explorations to support us as we integrate the work into our daily lives. In this work, we are held in full acceptance, just as we are, and witnessed in our whole, beautiful, human messiness, as we reconnect with our hearts, bodies, spirits, and the Earth.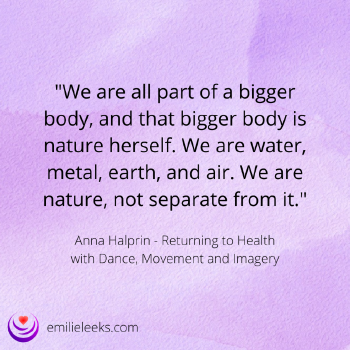 What is WOLH not?
If you're here reading this, it's likely that you're on some sort of healing path. Maybe you resonate with my experience: struggles with thriving in this often harsh world; learning to move on from living from a space of shame, frustration and struggle; experiences of trauma; habits like self-criticism, people-pleasing and perfectionism; a sense of disconnection from body - and from life… Maybe there's something very unique to you that you wish to explore.
Either way, you probably already know that NOTHING on this path is going to be a quick fix - and WOLH is no exception. It's not a magic wand. AND it can and does bring significant shifts when we commit to the work (and work through the inevitable frustration, resistance and discomfort!!!). There are no magic wands on this path.
And as I hinted just then, it's also not always comfortable. To heal our hurts, some of our biggest challenges might arise, and this can be painful and feel really hard. And that's ok! Not easy, but ok. (There are times where it is also the sweetest, most expansive, most heart-opening experience as well though!!)
And finally, WOLH is not about coming to see an expert who has all the answers (does anyone, in this healing work??). In your WOLH guide you will find a supporter, who will help you come back to yourself and to the seed of your own inner wisdom - not someone who thinks they know best, has expectations of you and your path, and who will give advice and tell you what you 'should' do. Hopefully you won't encounter this on your healing journey, whatever path you take, but it definitely won't be the case with a WOLH guide.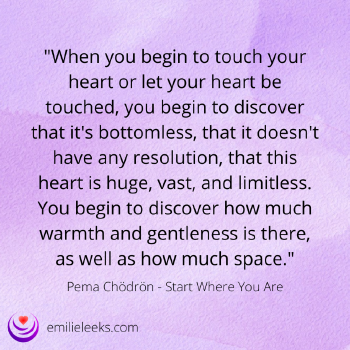 How is it done?
WOLH practices are engaged with under the guidance of a WOLH certified guide, like me. WOLH guides undergo an intensive, small-group, 7-month training with Francesca Redden. We engage with the work to support our own healing journey, as well as learning how to bring this work to others who are travelling this path. As I said above, we are not experts in your healing or your journey - we are not here to fix or heal. Instead, we are guides who can support you to come home to yourself, and to find that seed of healing and wisdom that you have inside of you.
The WOLH approach can be experienced in groups, or 1:1. Both types of session are a uniquely heart-opening opportunity to rest in a space of full acceptance for each of us, exactly as we are right now. All sessions begin with an opportunity to check in around our intentions for the session (and it's ok if we don't know what they are at this stage too!), and anything that's been present for us since any previous sessions we might have done. The majority of the time is then spent engaging with one of the beautiful WOLH practices, followed by some time at the end for integration, questions and sharings.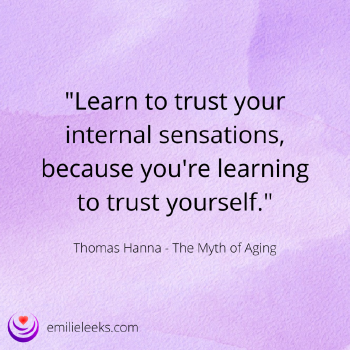 Are 1:1s or group sessions right for me?
Both 1:1s and group sessions have their upsides, so there is no one right answer here. Finances might draw you to one or another, or you might be guided by the sense of whether you want to share the experience within a group vs individually. It can be really beautiful to do a mixture - or your leanings might change over time to draw you to one option or another.
1:1 consultations are more targeted to you as an individual, and your specific experiences and intentions that you bring into a session. That means that practices will be chosen specifically to support you or guide you within that particular session, taking into account your intentions, needs and capacity on that particular day. They are an opportunity to go deep, with tailored support, into issues that arise for you, and to receive specific, individualised guidance to support you as you move forwards.
Group sessions give you the opportunity to engage with a range of heart-opening practices as you connect with other beautiful souls doing this work, which is such a valuable way to help us in feeling less alone in the challenges life brings us.
Practices, energies and experiences from sessions, whether 1:1 or group, can also be brought into our everyday lives, completely shifting how we engage with life, how we manage our internal disharmonies, and how we put ourselves out there into the world.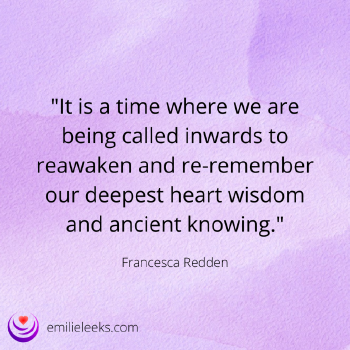 How do I know if it's for me?
Ah, this could be both the hardest and the easiest question at the same time! When I was looking around for a counsellor many years ago, I contacted a few, and the responses I received did not, sadly, fill my heart with hope. When I saw Francesca's website (she was working as a counsellor at that time), I immediately knew that I wanted to work with her - even though she lives on the other side of the world from me! Even though I was very caught up in my head at that time, for once, I listened with an open heart to my intuition, and went with the message I received.
And so I guess that's the answer about WOLH too - only you can know if this work feels like it's a good fit for you! You can take a look at my About page on my website and see if my outlook and values match with yours. You can get in touch with me to connect and ask me any questions you might have. You can even try a pre-recorded, introductory WOLH session and see what shifts you notice through getting a taste of this work. But ultimately, I invite you to check in with your heart and see if you feel that this work might be supportive to you, right now, where you are at.
For me, the Way of the Luminous Heart approach has been life changing. I have such an incredibly different experience of the world through doing this work - I am more compassionate, peaceful and trusting, and things unfold with so much more ease as I move through the ups and downs of life. I experience myself as love, and the Earth as benevolent and supportive. I have a deeper connection with my ancestors, as well as having many more resources and internal supports. Life feels better, and even when things feel hard, I can hold that challenge with curiosity and love. I wonder if anything there resonates for you, as something you would like more of in your life? If so, reach out and we can see if working together feels like the right thing to do. I will never, ever do a hard sell; if I think you won't benefit from working with me - or if I think there's something that would support you better - I will let you know.
How do I find out more about WOLH sessions?
As you have hopefully gathered by now, I am a certified WOLH guide. Visit my website to find out more about group sessions or 1:1 sessions, or contact me with any questions you might have. You will also find other wonderful WOLH guides listed on Francesca's website.
For ongoing inspiration and guidance, you can find me on Instagram or Facebook, or via my website, where you can also sign up to receive my as-and-when newsletter.
Find Francesca Redden and her inspiring work on Instagram or Facebook, as well as via her newsletter.
Wishing you wonderful things as you travel your healing path! Much love, Emilie xx
(*I think the world is AMAZING and that people are beautiful and good - AND I know that so many of us are wounded and hurting, and that is often the bedrock that cultures are built on; pain and hurt. And that this affects how each of us approaches the world, and can make it such a challenging place to live in. AND I always always believe that a seed of goodness and beauty and pure heart resides in each of us, even in our biggest struggles and darkest moments.)
Reflections
"I am so grateful to Emilie for the wonderful sessions we had together, they have been truly transformative. What I have seen through my journeying has strengthened the connection to my inner wisdom, and to the oneness of the universe. I have loosened my attachment to fear and past trauma in certain difficult relationships, which has opened up an enduring space in which to plant seeds of love and connection. Emilie thank you ❤️"
"Thank you so much Emilie I've really enjoyed working with you on this! ❤️🙏It's really opened my eyes (and heart!) to a new way of understanding / being. I'm excited to explore this more. I've been amazed at how powerful it's been to explore my emotions through my body and heart. I can see the effects the next day and the next week, it has felt like tapping into a new, for me previously untapped, source of healing. As a therapist, and someone who has not experienced such a healing approach before, it's been humbling and heartening for me to be in the place of client and have little idea of what to expect or what I should do. Your warm grounded guidance through the beautiful embodied practices (is that the right word) meant that I instantly knew I was in safe hands. This allowed me to feel free to fully explore where my heart and feelings lead me. Such a freeing empowering experience that has really left me with a sense of being more connected with my body and myself."
"My WOLH session with Emilie was heart-opening. There was a phrase that came to me during our work together, and I've come back to it since as a calming measure, as a way to check in with myself. I full-heartedly recommend working with Emilie, and I look forward to future experiences with her, as well."
"Emilie guided me through the WOLH session with great tenderness and warmth, inviting me to open to whatever came up while reminding me of how to stay grounded. Emilie has such integrity and authenticity, it was a pleasure to share this experience with her and I felt calmed and open hearted afterwards, having experienced some beautiful moments of connection. Thank you so much."
"While its fresh in my mind I wanted to email to thank you so much for this evenings session. It was so deeply relaxing, but also very focused. I was surprised at how focused and present I felt. I didn't expect to physically feel anything so to feel more open in my body and experience the tingling in my neck was a surprise. I feel calmer, softer and more connected to my body after that session which I am so grateful for as I live so much from my neck up! Thank you Emilie, I feel I can absolutely trust in whatever you bring us, and I am so grateful to you for offering that session xx"
"Thank you so much Emilie. I found the session yesterday evening really nurturing and it gave be quite a bit of new insight. Thank you for your care and compassion guiding me through it and for giving me the session, I feel so grateful and appreciative of your presence and insights. I have had a busy day with quite a few demands along the way and I have regularly visualised the images brought to me in the session and it helped me kind of soften to myself at difficult moments which is quite a different response to my automatic "metal cage" that I feel like is usually my structure and way of coping (not sure that makes any sense)! Anyway thank you from my heart, I will practice the daily reflections you talked about. With much love and gratitude Emilie"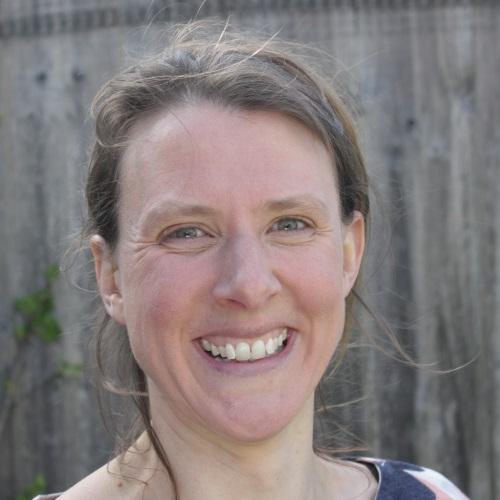 Emilie is a heart-centred life mentor and space holder, supporting those on a healing path. This is not an easy journey, and often we can find ourselves losing our way. Emilie's work meets you where you're at, with beautiful, accepting support and connection, and weaves that support with practices and explorations in self-compassion, body connection, and a return to a deep trust in ourselves. Note: all blog post content which refers to them, has been read and agreed to by Emilie's children.
View All Posts